(logo by no other than BouncyFrag)
For those people who weren't present during the
last years E3 event
here on BSN, Fiery Knight (later spearheaded by me) created a general E3 coverage thread for everything Dragon Age: Inquisition related during the Electronic Expo. This thread will cover all the info, footages, trailers and possibly more that will be revealed at E3, keeping the forums from overflowing with threads and making it easier for people to find everything that happened at the convention.
Electronic Entertainment Expo is less than a month away, which is slated for June 10-12 and will once again take place in Los Angeles Convention Center. It will be a bit slow here for the time being, so speculations and discussing what will be shown and what people would like to see is advised for the time being, and will later when the Expo is here be updated regularly with info. A live chat will also be open as well this year.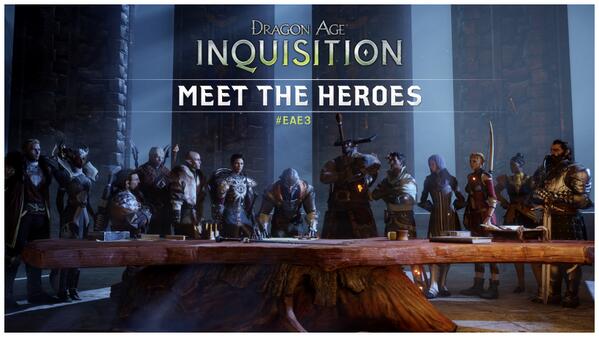 Follow DA:I E3 event at Twitter.
NEWS
DA:I Female Qunari Gameplay (IGN):
http://www.ign.com/v...gn-live-e3-2014
DA:I Companion Trailer:
http://m.youtube.com...h?v=zGYtwoghEXU
DA:I Dragon Battle Gameplay:
http://m.youtube.com...h?v=Hol0qyZAuQo
DA:I E3 Gameplay Trailer:
http://m.youtube.com...h?v=jNOK8x4tcgM
How Dragon Age Inquisition Improves Dragon Combat
DA:I Demo at E3 with Game Trailers
LIVESTREAMS
Twitch at E3
E3 Insider
Game Trailers
IGN E3
TIMER & TIMEZONES
Countdown to E3
Event Time Announcer
Schedule

Tuesday 6/10 PT:
9:00am – Nintendo Digital Event
10:00am – Deep Silver (Unannounced title)2
10:15am – Deep Silver (Unannounced title)
10:30am – Dragon Age: Inquisition (EA)
11:00am – Ubisoft (Unannounced title)
11:20am – The Division (Ubisoft)
11:40am – Farcry 4 (Ubisoft)
12:00pm – Call of Duty: Advanced Warfare (Activision)
12:20pm – Microsoft Studios (Unannounced title)
12:40pm – Microsoft Studios (Unannounced title)
1:00pm – DRIVECLUB (SCEA)
1:20pm – Evil Within (Bethesda)
1:40pm – Lords of the Fallen (NAMCO)
2:00pm – Destiny (Activision/BUNGIE)
2:20pm – The Order: 1886 (Sony Computer Entertainment)
2:40pm – Nintendo (Unannounced title)3
3:00pm – Evolve Special Tournament (2K)
4:00pm – Super Smash Bros. Invitational (Nintendo)
Kudos to Ericander77 and Giubba for the timeslots.